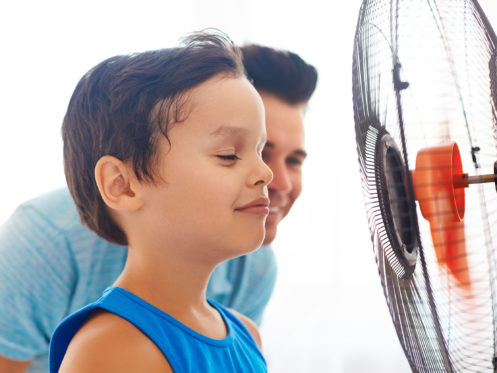 Suddenly finding yourself without air conditioning in the middle of the sweltering Lake Elsinore summer can be a nightmare. The problem can be even worse for those who live in rental properties since you probably won't want to pay for the repairs out of your own pocket.
Should you find yourself in this situation, your first question will surely be to ask how long your landlord legally can take to get the AC fixed and running again. To help you answer this question, here is a quick overview of California tenants' rights laws and what they say about air conditioning.
California Tenancy Laws and Air Conditioning
The first thing you need to note is that landlords in California are not obligated to provide air conditioning. However, if your rental unit had working air conditioning when you moved in, the landlord may still be required to pay for the cost of repairing it depending on the type of AC and how the damage occurred.
The primary determining factor is whether the air conditioner is specifically mentioned in your lease as something that the landlord provides. Even though landlords don't have to provide AC, some do still provide what the law terms an "optional cooling unit" such as a window or portable AC. In this situation, unless the lease explicitly states that the landlord is responsible for repairs, you will have to pay to fix the unit out of your own pocket since it is considered an optional amenity and not part of the lease agreement.
The other determining factor is how the damage to the unit occurred. If the air conditioner is included in your lease agreement and it breaks down due to normal wear and tear or as a result of negligence on the landlord's part, they are required by law to cover the cost of all necessary repairs. However, if the tenant or one of their guests were responsible for damaging the unit, then the tenant is responsible for repairing it.
In cases in which the landlord is responsible for the repairs, the law allows them 30 days to fix the issue. This time period starts from the day that you notify the landlord of the issue in writing. For this reason, it is vital that you email or hand deliver a note to your landlord to notify them of the problem immediately to prevent any delays.
What to Do If Your Landlord Doesn't Fix the AC
If 30 days have passed and your landlord still hasn't fixed your air conditioning, the law gives you several possible options. Depending on the circumstances, you may be able to cancel your lease agreement without any penalties. Still, you are usually better off using the "repair and deduct" option if possible. This law basically states that tenants are allowed to pay for the repairs themselves and then deduct the cost from their next rent payment. The only stipulations are that the repairs cannot exceed one month's rent and that you can only use this option to cover repairs twice per year.
Unfortunately, if the AC unit needs to be replaced, it will most likely cost more than the amount of one month of rent payments. In this case, you may have to hire a lawyer and take your landlord to court. What you definitely shouldn't do is pay for the replacement unit on your own since there is no guarantee that you will be reimbursed for the total cost if it exceeds one month's rent. You should also never withhold your rental payment since this will violate your lease and potentially cause you to lose any rights you may have had.
Lake Elsinore Air Conditioning and Heating Specialists
At Polar Express Heating & Air Conditioning, our highly trained HVAC technicians can handle any of your air conditioning repair needs. We service all makes and models of HVAC equipment, and we also offer a range of preventative maintenance services including a full 69-point service check. To give you added peace of mind that the job was done right, we back up all work with a labor and parts warranty as well as a 12-month, 100% money-back guarantee.
In addition to heating and cooling, we also specialize in indoor air quality services and equipment, including whole-home dehumidifiers, humidifiers, and air filtration systems. When it comes time to replace your old air conditioner, furnace, or other HVAC equipment, we also offer flexible financing options on approved credit. No matter what type of HVAC service you need, give us a call today to see what makes Polar Express Heating & Air Conditioning the top-rated HVAC company in Lake Elsinore.