Polar Express Heating & Air Conditioning offers duct cleaning in Lake Elsinore and the surrounding areas. We have over 20 years of experience among our team, and we are indoor air specialists. We can clean air ducts in your home or office building. Having clean air ducts is one of the most important steps you can take to improve your indoor air quality.

Dust mites, mold spores, and other allergens can build up in your ducts and cause serious health problems if you don't take action. Our team will thoroughly clean your ducts using professional-grade equipment that removes contaminants from every part of the system. You will feel better knowing that you're breathing cleaner air.
Service for Clogged Air Ducts
At Polar Express Heating & Air Conditioning, we believe in the power of clean air. That's why we offer duct cleaning services for homes and businesses in Lake Elsinore and the surrounding area. We're able to clear out clogged ducts, which can cause a variety of health problems. When your heating or cooling system is blocked, it can decrease efficiency and even increase energy costs.
When your ducts are clogged, you can't breathe easy. That's why it's so important to have them cleaned by a professional. Our technicians are experienced and knowledgeable—they'll be able to answer any questions you have about your system or how best to keep it running smoothly. We will remove any debris that has accumulated inside your ductwork. We'll also check for leaks and make sure everything is working properly.
Your ductwork may be clogged if you notice:

Uneven temperatures between rooms
Strange smells or sounds

Unusually high utility bills
Weak or no airflow
Clean Air Duct Experts in Lake Elsinore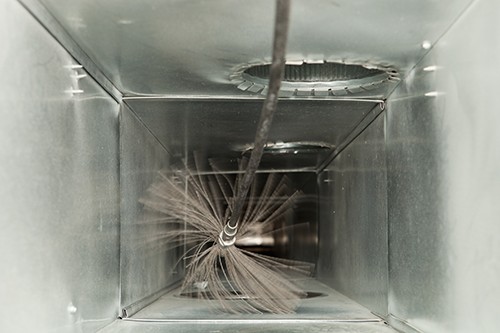 Our customers call us friendly and reliable—and they know they can trust us to treat their homes like our own. We use the Rotobrush System for all our duct cleaning—it's a safe, effective way to get rid of contaminants that can cause allergy symptoms or respiratory illness in people who live with asthma or allergies. The Rotobrush is also environmentally friendly: it doesn't produce any harmful chemicals during use. There's no need to worry about dust getting into your home after our technicians are done—we take pride in our workmanship and aim to leave your home as clean as possible.
When you need duct cleaning in Lake Elsinore and the surrounding areas, count on Polar Express Heating & Air Conditioning to get the job done.